Thus our Somali cattery was founded
In July 2002 we bought a house in the Bergisches Land, Germany, NRW (near Cologne), to where we moved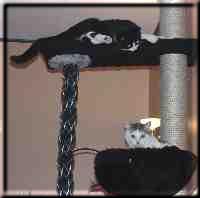 with our two house cats after 3 moths renovation. Since we had much more space available now, we could fulfil the desire to share my life with more than two cats. Now it was to choose, of which breed our new family member should be. We didn't want a cat just for ornamentation, so it had to be a lively breed. Choosing was easy: On the spur of the moment we loved the wild animal like appearance of the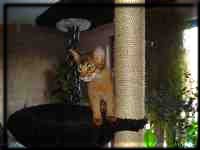 Somali cat, but also her jauntiness, paired with a gentle mind, satisfied our wishes.
In December 2002 the male Somali cat Nangis of Nenastje joined us, but the two house cats were no real thrilled playmates for him - so we decided to affiliate another Somali. We had thoughts about breeding Somalis since we had to decide if Nangis should be a pet or a stud. At least now this decision had to be made.
The Somali cat Marilyn M. von Torremolinos and we had found us. After we had the possibility to familiarise us with her in her cattery and on two cat shows, she became a member of our life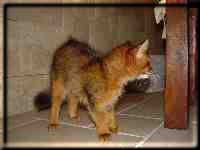 and should become our first breeding cat. In April 2003 she finally came and got instantly familiar with the other cats, especially with Nangis. Marilyn and Nangis seemed to be soulmates.
Our second passion besides the cats is cultivating bamboos -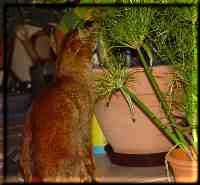 the cats obviously share our passion, we have to protect young bamboo plants with gratings from being grazed. The bamboos helped us by the difficult choice of the cattery name: One of our rather small growing (up to 1 m) bamboos,Shibataea kumasasa, adorns with its name our cattery as well its trees adorn this pages. May our cats develop as gorgeously as this bamboo!
How live the Kumasasa Somalis?
Our family consists of two adults and at the moment six female cats and two male cats (and of course sometimes a litter).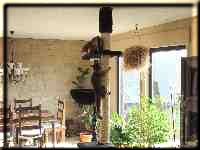 The word family has o be taken absolutely literally, because our cats are completely integrated in our daily life.
The cats are allowed to move freely on 150 m² in nearly all rooms (except the laundry, storage cellar and workshop).

From early spring until late autumn the cats use the 10 m² large netted balcony,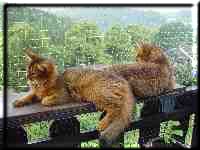 directly adjacent to the living room and which is freely accessible by the cats in this time of the year.
Since late 2007 there is a 5 × 12 m large outside enclosure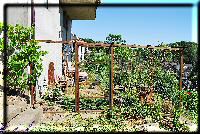 available to our cats, which is used all-the-year by our cats with pleasure — even in the deepest winter the cats play in the deep snow.
Upbringing of the baby cats
All our cats are of course regularly vaccinated and wormed and are under permanent veterinary care. The Somali kittens leave the house with the 14th week, after they have been treated with all in this age available vaccinations and the have been sufficiently wormed.
Since the babies are real family members in the short time, which we are allowed to spend with them and their further well-being is of utmost importance to us, we set value in choosing their future home carefully and timely.
We strictly deprecate factory farming and profit oriented cat breeding!
Wir are members of the GdK - Gemeinschaft der Katzenfreunde e.V., member № 728 and № 729, our cattery name is naturally registered..
Until 31. Dec. 2011 we were member of the Berliner Edelkatzen Club e.V., Member № 20805, our cattery name was there registered.
---